Depending on how you choose to use social media networks such as Instagram, your feed can either improve your habits and self-esteem, or potentially take a toll on your mindset.
I believe one of the keys to using Instagram in a positive way is to follow like-minded health influencers and fitness influencers who provide you with practical, inspiring advice related to reaching your goals.
The Instagram influencers listed below are people who I know and respect. They're true experts in what they do, with a focus on providing science-backed tips and information which collectively influence millions of people … in the right ways. Let's look at some of my favorites to follow in 2022 and beyond.
50. Kelly LeVeque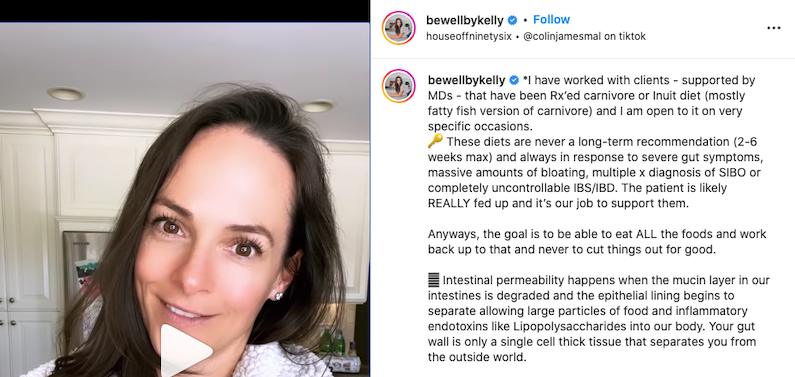 Instagram: @bewellbykelly
Followers: 461K
Ad
Kelly LeVeque is a certified holistic nutritionist, celeb wellness influencer and bestselling author, including of the books Body Love and Body Love Everyday.
Her goal is to provide followers with "real life advice," especially on improving their body image and on balancing blood sugar levels, in order to sustain more energy.
49. Dr. Mark Hyman, MD
Instagram: @drmarkhyman
Followers: 1.8M
Dr. Hyman is a true leader in his field, with extensive experience as a family physician and practitioner of Functional Medicine. As a four-time New York Times best-selling author, frequent podcaster and television personality, he's one of the most well-known health influencers in the U.S.
As the founder and medical director of The UltraWellness Center, Dr. Hyman is enthusiastic about teaching about holistic health, including the need to manage stress and practical ways to lose weight. More recently, he's also shifted his focus to combating climate change and teaching others how to eat sustainably.
48. Max Lugavere
Instagram: @maxlugavere
Followers: 497K
Lugavere is best known as the host of The Genius Life Podcast and as the New York Times best-selling author of the cookbook Genius Kitchen.
He's a promoter of all things related to brain and mental health, including decreasing exposure to processed foods and environmental toxins, as well as stressful news, negative social media outlets and limiting beliefs that can drain peace from people's lives.
47. Courtney Swan
Instagram: @realfoodology
Followers: 125K
As the founder of Realfoodology™ and host of the Real Foodology podcast, Swan, MS of Science in Nutrition and Integrative Health, is "on a mission to change the way people eat."
Her focus is on promoting a non-toxic lifestyle that includes whole foods, organic and eco friendly skincare, and natural birth control methods. She also regularly speaks out about potential side effects caused by modern and vegan diets, instead emphasizing the need to eat a variety of traditional, nourishing foods in their natural states.
46. Vani Hari (aka The Food Babe)
Instagram: @thefoodbabe
Followers: 1M
Hari is the creator of foodbabe.com, co-founder of Truvani, and New York Times best-selling author, including of the cookbook Food Babe Kitchen. She's most well known for teaching her followers how to make healthy food swaps, to choose the best options when grocery shopping, and to plan weekly, nutritious and delicious meals without the need to give up any particular food groups.
As a firm believer in understanding exactly what you're eating, she teaches people to decode ingredient labels, avoid products made with risky additives, and how to prepare and store food safely at home.
45. Dr. Will Cole
Instagram: @drwillcole
Followers: 327K
Dr. Cole is a top 50 Functional Medicine practitioner, operator of one of the first functional medicine telehealth clinics, podcaster at The Art of Being Well, and New York Times best-selling author of Ketotarian.
With a passion for brain, gut, hormone and thyroid health, Dr. Cole emphasizes eating a clean, mostly plant-based diet that can help limit inflammation.
One of his goals is to teach people how to reverse underlying causes of chronic diseases such as diabetes and hypothyroidism. Passionate about reaching people of all walks of life, he consults people around the world via webcam and also regularly releases articles and podcasts with down-to-earth advice on making lifestyle changes.
44. Robin Berzin, MD
Instagram: @robinberzinmd
Followers: 40.7K
Dr. Berzin is founder/CEO of Parsley Health, one of the U.S.'s leading holistic medical practices designed to help people overcome chronic conditions. As a self-proclaimed healer, her motto is to "take care of yourself," specifically by choosing the right foods, exercise plan and mindset to gain more energy, clarity and ease.
She has been named one of the 100 most innovative women in business by Inc. Magazine, and highlighted by Fast Company as a top innovative leader in the medical field. Her 2022 book State Change focuses on beating anxiety and burnout by recognizing the intrinsic link between physical and mental health.
43. David Sinclair, PhD
Instagram: @davidsinclairphd
Followers: 313K
Sinclair is a scientist focused on extending life spans via a healthy lifestyle, as well as a Harvard professor and author of the book Lifespan. As the co-director of the Paul F. Glenn Center for Biology of Aging Research at Harvard Medical School, his team includes world leaders who are set on understanding why we age and how to slow the aging process down.
Sinclair regularly participates in podcasts, social media events and speaking engagements to help others understand how to utilize supplements, foods and lifestyle hacks such as fasting to improve both well-being and longevity.
42. Dr. Chris Motley, DC, DABCA
Instagram: @doctormotley
Followers: 38K
As a Doctorate in Chiropractic with a specialization in Clinical Kinesiology, and a practitioner of Chinese Medicine and Integrative Medicine, Dr. Motley offers his patients and followers info on a range of holistic modalities, including nutrition therapy, herbs, tai chi, frequency medicine, acupuncture and kinesiology.
His practice is geared towards those looking for help with conditions such as Lyme disease, parasites and chronic infections. Dr. Motley's approach combines the art, science and integration of both Eastern and Western medicines. In his words, "What makes health special is the connectivity of all the pieces. Understanding that each part creates the whole is the basis of healthcare, and most any philosophy."
41. Dr. Tyler Jean
Instagram: @drtylerjean
Followers: 287K
Jean is a doctor of Naturopathic Medicine, as well as a nutrition and wellness enthusiast. He loves promoting biohacking tips and a "functional foods diet" based on traditions including Ayurveda.
You'll regularly find him sharing sleep and stress-related advice, as well as dairy-free and grain-free recipes aimed at fighting inflammation. As a former Division I swimmer and now fitness influencer, he advocates viewing food as fuel, one reason why he encourages a varied diet including both plant and animal foods.
40. Dr. Daniel G. Amen

Instagram: @doc_amen
Followers: 762K
As a psychiatrist and founder of Amen Clinics, Dr. Amen teaches people "how to change their brains" for the better. He's a 12-time New York Times best-selling author, including the books Change Your Brain, Change Your Life and You, Happier, which reveal neuroscience tips and tricks to boost happiness within as little as one month.
Amen Clinics, which now has 10 locations across the U.S., has the mission of ending mental illness by creating a revolution in brain health. Dr. Amen is also the founder of BrainMD, a fast growing, science-based nutraceutical company.
39. Steven Lin, DDS
Instagram: @drstevenlin
Followers: 209K
Dr. Lin refers to himself as a Functional Dentist, as he holds the view that oral and tooth health are tied to the well-being of the rest of the body. He focuses on solving crooked teeth, restoring jaw health and ending tooth decay by eating a nutrient-rich diet and limiting exposure to harmful chemicals.
His book The Dental Diet explains the root causes of dental disease and ways to reverse tooth and gum damage by focusing on holistic health. The principle behind his book and practice is that "Dental health is a reflection of your overall health."
38. Mike Mutzel, MS
Instagram: @metabolic_mike
Followers: 186K
Drawing on his education and training (MS in Human Nutrition), "Metabolic Mike" is the creator of popular videos and articles about dietary hacks, fasting and immune-boosting habits.
He's an advocate for eating a low-glycemic and/or ketogenic diet, knowing that processed foods with added sugars and refined grains negatively impact moods, glucose and insulin metabolism, hormonal health and digestion.
37. Dr. Amy Shah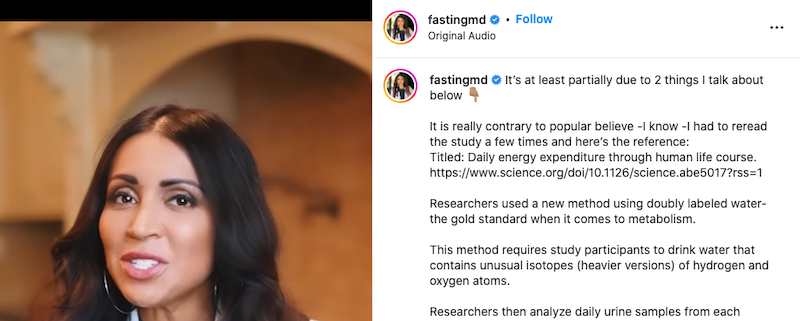 Instagram: @fastingmd
Followers: 178K
Dr. Shah, author of I'm So Effing Tired, runs a popular online program that provides nutrition counseling and education for lowering inflammation and increasing energy levels.
She's enthusiastic about teaching people how to fight fatigue, burnout and negative effects of stress with help from a nutritious diet, balanced schedule and practices such as intermittent fasting. According to Dr. Shah, the key to living the life you want to live is to focus on the "powerful energy trifecta": the complex relationship between your gut, your immune system and your hormones.
36. Rich Roll
Instagram: @richroll
Followers: 492K
Roll is a renowned fitness influencer and the author of best-seller Finding Ultra, which speaks to athletes of all levels about training and eating (specifically a vegan-leaning diet) to reach peak performance.
He's also the host of the Rich Roll Podcast, which is consistently one of iTunes' top-rated podcasts, and a regular public speaker on the topics of vegan ultra-endurance and plant-based nutrition. Now 50 years old and a father of four, Roll considers himself to be the healthiest he has ever been, both physically and mentally.
35. Dr. Rhonda Patrick, Phd
Instagram: @foundmyfitness
Followers: 710K
Patrick is considered one of the coolest biomedical scientists in the world, with a devoted audience of her Found My Fitness podcast. Part of her extensive experience includes performing research on aging at the Salk Institute for Biological Sciences, in which she studied the link between insulin signaling and neurodegenerative diseases.
Today she frequently engages in public speaking about all things nutrition, brain, stress and longevity related. She's an advocate for fasting, supplement use, and eating a nutritious, mostly low-carb diet that supports healthy aging and disease prevention.
34. Dr. William Li, MD
Instagram: @drwilliamli
Followers: 77K
Dr. Li is an internationally recognized medical expert and best-selling author of Eat to Beat Disease. As a Harvard trained medical doctor, he's a trusted resource regarding the use of nutrition to fight and reverse common chronic diseases.
Dr. Li helps millions of followers every year to better understand how whole foods, herbs and other supplements support both their microbiomes (guts) and immune systems, often decreasing the need for medical interventions.
33. Amanda (Meixner) Rocchio
Instagram: @meowmeix
Followers: 1.5M
Amanda is the founder of the healthy eating brand MeowMeix, focused on the benefits of meal prepping. She has a knack for remaking recipes so they're healthier choices, and for making nutrition easy to understand and implement.
As a health influencer who's loved for her vibrant cooking infographics and meal prep videos, she gets you excited about "eating the rainbow."
32. Dr. Uma Naidoo
Instagram: @drumanaidoo
Followers: 72K
Known as the world's first "triple threat" in the food and medicine space, Dr. Uma Naidoo is a professional chef, psychiatrist and nutrition specialist where she's carved out her space as an expert in Nutritional Psychiatry.
She founded and directs the first hospital-based Nutritional Psychiatry Service in the U.S. and is director of Nutritional and Lifestyle Psychiatry at Massachusetts General Hospital. She was considered Harvard's Mood-Food expert and has been featured in the Wall Street Journal and other media outlets, and is the best-selling author of This Is Your Brain On Food.
31. Dr. Caroline Leaf
Instagram: @drcarolineleaf
Followers: 704K
Dr. Caroline Leaf is a communication pathologist and cognitive neuroscientist with a master's and PhD in communication pathology. Since the early 1980s, she has researched the mind-brain connection, the nature of mental health and the formation of memory. She was one of the first in her field to study how the brain can change, which is known as neuroplasticity, with directed mind input.
She has helped hundreds of thousands of students and adults learn how to use their mind to detox and grow their brain to succeed in every area of their lives, including school, university and the workplace. Dr. Leaf is also the best-selling author of Switch on Your Brain, Think Learn Succeed, Cleaning Up Your Mental Mess and more. She teaches at academic, medical and neuroscience conferences, and to various audiences around the world.
30. Dr. Aviva Romm
Instagram: @dr.avivaromm
Followers: 157K
A combined Yale-trained MD, herbalist and a midwife, specializing in all things women's health, Dr. Romm invites you to reimagine your relationship with your body, cycles, hormones and reproductive health.
Her best-selling book, Hormone Intelligence, is teaching women all over the world that being a woman doesn't have to be a diagnosis, and shares her wisdom so women of all ages can thrive in every stage of life.
29. MoveU
Instagram: @moveu
Followers: 1.1M
Founded by chiropractor Dr. Michael Wasilisin, MoveU brings corrective exercise to the masses, particularly through its flagship Total Body Program, which continues to help thousands of "Muvers" today.
MoveU empowers people to better connect to their bodies to help heal imbalances, misalignments and pain often caused by years of microtraumas, including poor posture. Combined with strong community and live coaching, MoveU targets common problem areas like the low back and pelvic floor to help people feel better.
28. Andrew Huberman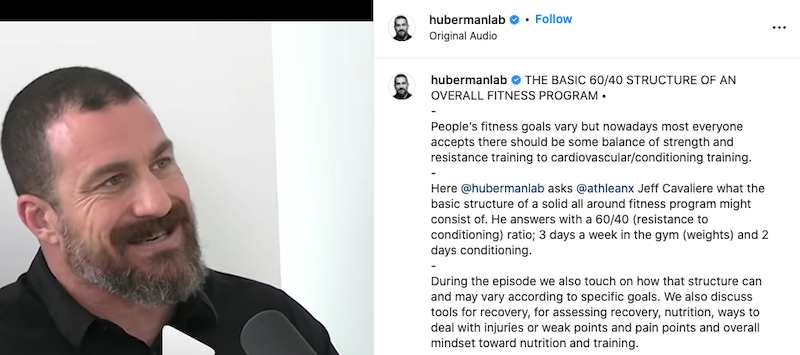 Instagram: @hubermanlab
Followers: 1.1M
Andrew Huberman, PhD, is a neuroscientist and tenured professor in the Department of Neurobiology at the Stanford University School of Medicine. His numerous contributions to the fields of brain development, brain function, neural plasticity and neural regeneration.
Work from the Huberman Laboratory at Stanford School of Medicine has been published in top journals and media outlets. In 2021, Dr. Huberman launched the Huberman Lab Podcast, which is often ranked No. 1 in the categories of Science, Education and Health & Fitness.
27. Dr. Jen Fraboni, PT, DPT
Instagram: @docjenfit
Followers: 693K
A top-40 physical therapy influencer, Dr. Jen (Frabrioni) Esquer is ranked as one of the "Best Fitness Trainers on IG" by Shape Magazine.
After navigating health struggles of her own growing up, she learned the power of physical therapy and movement to heal. Today, she offers private sports therapy, online programs, workshops and speaks at global engagements, attracting audiences from stay-at-home moms to Hollywood actors and Olympic athletes. Her mission is to help those who are willing to listen to their body, reverse aging, eliminate pain and establish sustainable health.
26. Wim Hof
Instagram: @iceman_hof
Followers: 2.5M
Born in 1959, Wim Hof is better known today as "The Iceman" and developer of the Wim Hof Method. An extreme athlete, Hof trained his body to withstand freezing temperatures and went on to set Guinness world records for swimming under ice.
His training method garnered international attention, and today Hof shares his "three pillars" of Breathing, Cold Therapy and Commitment to the world through events and online trainings to optimize human performance and wellness.
25. Shawna
Instagram: @alittlelesstoxic
Followers: 162K
Shawna began her journey to become "a little less toxic" in 2013 after years of battling life-altering health issues including brain fog, sinus infections, plus chronic and oftentimes debilitating migraines.
Scared, frustrated and desperate, Shawna says it motivated her to live life in a new way. Here, she found that small changes completely and radically changed her life, and she's sharing what she's learned and living on a mission of helping families thrive and live well by making small changes.
24. Dr. Nicole LaPera

Instagram: @the.holistic.psychologist
Followers: 5.1M
Frustrated by the limitations of traditional psychotherapy, clinical psychologist, Dr. Nicole LePera began a journey to develop a more holistic approach to mental, physical and spiritual well-being. After experiencing life-transforming results herself, she shared her new protocol in new book, How to Do the Work.
She helps people recognize how negative experiences and trauma can live and fester within us, and she teaches the world how to break free of destructive behaviors.
23. Cody L. Rodriguez
Instagram: @corylrodriguez
Followers: 767K
Health and wellness expert Cody L. Rodriguez is co-founder of One Healthy Nation, a health and wellness website dedicated to helping people "Make One Healthy Choice Today. Feel Better, Look Better, Live Better Tomorrow."
His work at One Healthy Nation sheds light on important nutrition research, while transforming the latest science into approachable tips and strategies. Rodriguez helps people to meal plan and shop more easily for nutritious foods, avoid potentially dangerous household products, and improve their mood and mindset by shifting their schedule and living space.
22. Dr. Mark Burhenne, DDS

Instagram: @askthedentist
Followers: 142K
Trained as a general dentist, and now one of the world's most popular Functional Dentists, Dr. Burhenne's motto is, "You can't be healthy without a healthy mouth."
Via his podcast and website, his goal is to teach followers how to have beautiful and functional teeth for their whole lives. His advice focuses on taking care of your mouth and body holistically, including by using DIY oral care products like natural toothpastes, mouthwashes and more.
21. Dr. Rachel Paul, PhD, RD
Instagram: @collegenutritionist
Followers: 600K
Dr. Paul, creator of the College Nutritionist website, is a PhD-trained nutritionist who educates busy women on achieving permanent weight loss with help from practical and nutritious meal plans.
She's inspired to help women of all ages feel more in control around food by focusing on improvements in their mindset, as well as stress-reduction and self-acceptance.
20. Dr. Casey Means, MD
Instagram: @drcaseyskitchen
Followers: 48K
Dr. Means, a Stanford-trained physician, is the Chief Medical Officer and co-founder of Levels, a metabolic health company that empowers patients to reverse chronic diseases with help from tech-enabled tools.
She's also the Associate Editor of the International Journal of Disease Reversal and Prevention, focused on researching sustainable dietary and lifestyle choices.
19. Dr. Rangan Chatterjee
Instagram: @drchatterjee
Followers: 365K
As the host of the podcast Feel Better, Live More, Dr. Chatterjee preaches about the "Four Pillars of Health," which include: relaxation, eating, moving and sleeping in a way that promotes vitality.
He believes that "progressive medicine" can change the world, which is an approach to health that targets root causes of chronic diseases and draws upon the body's interconnected systems.
18. Jessie Inchauspé
Instagram: @glucosegoddess
Followers: 533K
Inchauspe is a biochemist and bestselling author of Glucose Revolution. She helps people understand how to tackle issues such as cravings, chronic fatigue, skin inflammation, diabetes, mood disorders and PCOS with a healthy, whole foods diet.
Her mission is to simplify cutting-edge nutrition science into easy, actionable steps that help support both physical and mental health.
17. Dr. Carrie Jones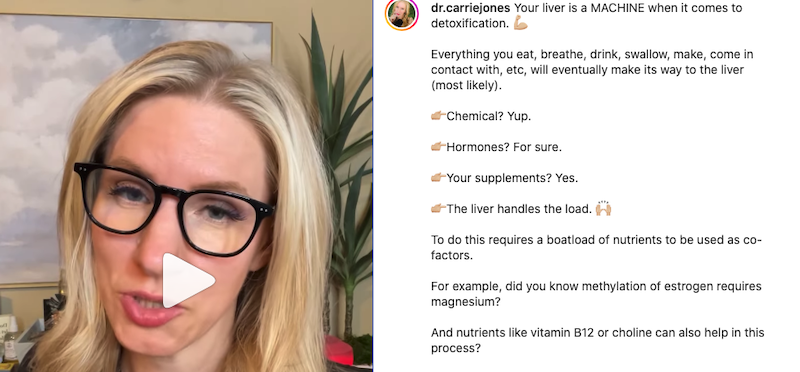 Instagram: @dr.carriejones
Followers: 139K
An integrative functional medicine doctor and the Head of Medical Education at Rupa Health, Dr. Jones is an instagram influencer who's best known for being a women's hormone expert.
Her primary goal is to help women understand how hormones impact overall health, this way they can work with their bodies rather than against them. Through her publications, blog posts and webinars, she "helps hormonally challenged people feel less crazy," providing them the ability to manage their hormonal symptoms with diet and lifestyle changes.
16. Dr. Sarah Ballantyne, PhD
Instagram: @drsarahballantyne
Followers: 174K
On a mission to help people recover from autoimmune diseases and gut dysfunction, Dr. Ballantyne, who has a PhD in medical biophysics, created The Paleo Mom blog and the Autoimmune Protocol (AIP) plan.
She's also co-host of The Paleo View podcast, and a New York Times best-selling author of four books on nutrition and autoimmune symptoms. Her purpose is to provide explanations of the science behind the Paleo diet and lifestyle, and to offer tips for implementing the diet in real life, with a strong focus on modifications for autoimmune disease sufferers.
15. Dr. Eric Berg, DC
Instagram: @drericberg
Followers: 513K
A passionate advocate of the ketogenic diet and intermittent fasting, Dr. Berg has a huge following of YouTube Subscribers (7 million) who trust his advice regarding low-carb lifestyles for weight loss and beyond.
As a chiropractor and nutrition expert, he has spent nearly 30 years helping people to improve their diets and health by breaking down complex topics into easy-to-understand information.
13. Ben Greenfield
Instagram: @bengreenfieldfitness
Followers: 380K
Greenfield, a self-proclaimed biohacker, fitness coach, competitive athlete and nutrition enthusiast, is the founder and CEO of Ben Greenfield Life, a website dedicated to healthy living. He's also the host of the popular Ben Greenfield Life podcast, which features guests who are experts in longevity, weight loss, bodybuilding and more.
As a New York Times best-selling author, and author of 17 books including Beyond Training and Boundless, he's considered an expert on the delicate balance between performance and health. His knowledge allowed him to complete an impressive 13 Ironman triathlons. He's also the founder of KION, a nutritional supplements company that combines time-honored superfoods with modern science.
12. Dr. Ana M
Instagram: @dranamariatemple
Followers: 107K
Dr. Ana is a Holistic Pediatrician who helps moms supercharge their kid's and families' health. She specializes in treating pediatric eczema, allergies, digestive problems and other issues with help from holistic practices, a healthy diet and "low-toxic living."
11. Jessica Ash
Instagram: @jessicaashwellness
Followers: 208K
Ash, a Functional Diagnostic Nutrition Practitioner and personal trainer, is renowned for being a hormone and PCOS expert. She teaches women about restoring hormone and metabolism balance with healthy food choices.
She created the Fully Nourished course to help those suffering from issues like hormone-induced weight gain, adrenal fatigue, hypothyroidism and infertility to regain their health and happiness naturally by making smart dietary swaps.
In her words, "Instead of exercising to the brink of exhaustion, drinking sludgy green smoothies, counting every calorie that goes into my mouth and letting my health struggles dim my magic, I spend my days honoring my body and teaching others to do the same."
10. Autumn Bates

Instagram: @autumnelle_nutrition
Followers: 63K
Autumn is a Certified Clinical Nutritionist with a Masters in Sports Nutrition. She regularly shares nutrition, fasting and weight loss tips on both social media and her website AutumBatesNutrition.com.
As opposed to preaching a one-size-fits-all approach to weight loss, she believes in the power of science-backed nutrition that's tailored to each person's lifestyle, preferences and goals.
9. Dr. Courtney Kahla
Instagram: @drcourtneykahla
Followers: 131K
As a holistic chiropractor and owner of Our Well House, Dr. Kahla shares her passion for allowing the body to heal itself. Her goal is to empower people to become their own health advocates, confidently making the best choices for their family's well-being. Through her education programs and resources, she encourages each individual to navigate their unique road to wellness.
8. Leigh Erin Connealy, M.D.
Instagram: @connealymd
Followers: 68K
Dr. Connealy, author of The Cancer Revolution, is an integrative medical doctor and director of the Cancer Center for Healing. Her book and programs offer a groundbreaking approach to both treating and preventing cancer with a non-toxic, holistically healthy lifestyle.
She has treated over 47,000 patients and now runs two large centers that offer an array of services for the entire family, including not only cancer therapies but also nutrition, weight loss, pain management, acupuncture and more.
7. Adriene Mishler
Instagram: @adrienelouise
Followers: 1.2M
Mishler is a wildly popular yoga instructor with a huge online following; her Youtube channel, called Yoga With Adriene, has over 11M subscribers. She's also the co-founder of the yoga video subscription service Find What Feels Good.
She's loved for offering down to earth and free yoga content to people of all over the world, of all fitness levels. Her vision is to make tools for mental, emotional and physical health accessible to anyone and everyone.
6. Dr. Jessica Peatross, MD
Instagram: @dr.jess.md
Followers: 259K
Dr. Peatross, a Functional Medical Doctor, meets with patients around the world by offering online memberships at her virtual wellness clinic called WellnessPlus. Additionally, she engages in webinars, live Q&As, vlogs, blogs and podcasts throughout the year that are focused on detoxification, drainage pathways and overcoming environmental illnesses.
She's trained in Gerson therapy, an alternative and intensive treatment for cancer, as well as Ozonotherapy, which uses gas to fight diseases, and Neuro Emotional Technique, a holistic mind-body approach to help manage stress-related conditions.
5. Lisa Levitt Gainsley, CLT
Instagram: @thelymphaticmessage
Followers: 59K
Author of The Book of Lymph, Gainsley is a Certified Manual Lymph Drainage specialist who guides people in boosting detoxification and immune health through self-massage.
She's the creator of a popular five-minute self-massage sequence, as well as a massage guide and course for educating other massage therapists. Drawing on her previous work at UCLA Medical Center and private practice for more than 20 years, the techniques she teaches can be performed at home to promote the many benefits of lymphatic massage.
4. Sara Gottfried, MD
Instagram: @saragottfriedmd
Followers: 172K
Dr. Gottfried is a Precision and Functional Medicine Expert and a four-time New York Times best-selling author, including of Younger, The Hormone Reset Diet and The Hormone Cure.
She's a graduate of Harvard Medical School and MIT, and now the creator of online health programs that can be accessed from anywhere in the world. Her approach to boosting hormonal balance and promoting weight loss include following a female-friendly keto diet that addresses women's unique hormonal needs.
3. Ali Le Vere
Instagram: @empoweredautoimmune
Le Vere, who has a MS of Human Nutrition, is a functional and holistic health coach focused on empowering those who struggle with autoimmune conditions. She advocates for taking "radical responsibility" for your health in order to reclaim medical autonomy, bodily agency and informed consent when it comes to what you put into and onto your body.
To help people overcome health-related struggles, La Vere relies on evidence-based adjunctive therapies and natural alternatives, including sense of community and purpose, dietary changes, movement, sleep and time spent in nature.
Followers: 167K
2. Dr. Jaban Moore, D.C
Instagram: @drjabanmoore
Followers: 47K
Dr. Moore is a chiropractor with extensive additional training, including in True Cellular Healing and Applied and Clinical Kinesiology. He has a passion for restoring health through a multi-therapeutic approach and believes in finding the root causes of chronic illnesses in order to support the body's healing process.
Additionally, he's a "Lyme Disease Warrior " who educates on the topic of autoimmune conditions. Recently, he created an online guide and line of products that help create the "foundation of health", which includes a proper diet, water, sleep and optimal nutrient intake.
1. Dr. Christian Gonzalez
Instagram: @doctor.gonzalez
Followers: 203K
Doctorate of Naturopathic Medicine and the host of the Heal Thyself podcast, Dr. G specializes in helping others to heal from mental health conditions, trauma, toxin-related illnesses and cancer. His belief is that "Health looks different on everyone, but true health comes from a healthy mind and spirit, as well as a healthy body."
Heal Thy Self looks at the multitude of factors that contribute to health while providing knowledge to help others make informed decisions about treatment options. Dr. G is also passionate about environmental medicine and climate change concerns, as well as the mind, body and spirit connection.